Serv Clip® Type 2
for Pressurized Pipes
Hydraulic Pipe measuring point Serv-Clip® Type 2 with 3/8″ screw for hydraulic and gear oils. Installation with jaw/screw wrench only.
Quick and cheap installation
Measurement without minimal downtime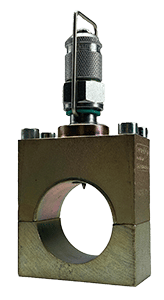 How Does It Work?
The patented pressure measuring clip connector SC-2-A… has been developed for mounting to pressureless hydraulic tubes. Following installation, the measuring connector is capable of permanent use for a working pressure of 630 bar (9100 psi). The measuring connector SC-2-A… is supplied in a pre-assembled state with measuring connector and needle. Screwing in the measuring connector presses a special-shaped needle through the wall of the tube. Afterwards the measuring connector is screwed out and the needle removed along with the stirrup and a pressure disk. The measuring connector is now screwed back into the Serv-Clip. The measuring point is now sealed off and permanent pressure can be applied up to 630 bar (9100 psi). This connection is quick and simple to make and is also reliable. The whole process takes only a few minutes to complete. No special tools are required for mounting the Serv-Clip. The system is fully sealed off. Contamination of the hydraulic fluid is ruled out. The operating reliability of the system remains intact.
Step One:
Place in Position

Step Two:
Screw Down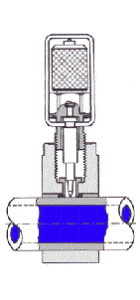 Step Three:
Insert
Step Four:
Remove Needle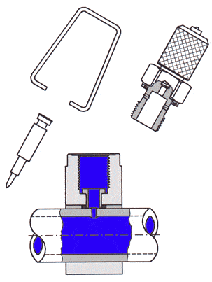 Step Five:
Measure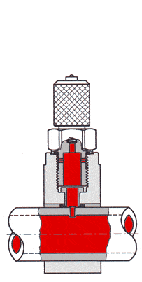 In 4 simple steps you can:
Measure pressure
Take oil samples
Bleed lines / Install pressure gauges
Install pressure sensors or pressure switches
Carry out particle measurements
Technical
Information
Tolerances of the outer diameter of the pipe according to DIN 2391

Pipe recommendation for steel made Serv-Clips

Seamless drawn steel pipes made out of ST 35.4 material or pre-treated basic material ST 37.4 according to DIN 1630. Condition when supplied NBA (normalising, bright annealed) with outer pipe diameter tolerances according to DIN 2391, maximum hardness: HRB 75. Construction dimensions of the Serv-Clip are adapted to the pipes and tolerances according to DIN 2391.

PB 630 (the indications with regard to pressure and safety are based on the installation according to this data leaflet)

– 40… + 120 °C (Steel)
– 25… + 200 °C (O-ring in Viton)

PB 630 (the indications with regard to pressure and safety are based on the installation according to this data leaflet)

Required pressure reduction due to the material in comparison to catalogue details in the case of increased or reduced temperatures.



If there are divergent definitions for permissible pressures, safety margins, temperatures and, if necessary, applicable pressure reductions due to standards, regulations or approvals for specific applications, the information provided by them is obligatory. Nominal pressures (PN) and working pressures (PE) detained in the catalogue are max. permissible working pressures including pressures peaks, whereby the temperature limits and pressure reductions detailed in the table above must be taken into consideration.



Functional safety under stationary load:
Types with PN indications : 4 times

Types with PB indications : 2.5 times